Boost IT Service Management
While you can fully concentrate on your core business, Remote Management will constantly keep an eye on disk health, CPU usage, the online status of a computer, your firewall, the protection of endpoints and many more. The system will only notify you if there is an issue or based on conditions that you yourself define.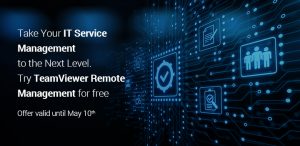 Here's what you can gain:
Faster reaction time to limits and potential issues
Less downtime due to preventative maintenance
Huge cost savings by avoiding expensive outages and the risk of data loss
Have we convinced you?
Enhance Your TeamViewer Experience
Your Professional IT Service Management Platform that covers all bases in your business.
Ensure the stability and security of your IT infrastructure.
TeamViewer Remote Management protects and monitors your devices in order to stay one step ahead of potential problems.
Monitoring
Asset Management
Endpoint Protection
Backup
Conveniently integrated into TeamViewer.
READ THE BROCHURE BELOW
Teamviewer REMOTE MANAGEMENT BROCHURE
Then how about a trial so you can gain your own experience?
As our valued customer, you are entitled to an extended free 30 days trial of TeamViewer Remote Management.
IT Service Management Is key to business growth and productivity.
Claim it now, contact us at:
ACUMEN TECHNOLOGIES
011 782 2194