Description
Buy the JL430A Aruba 3810m from Acumen Technologies
Aruba 3810M Switch Series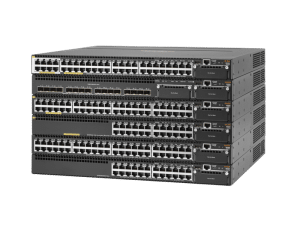 The Aruba 3810 Switch Series provides performance and resiliency for enterprises, SMBs, and branch office networks. With HPE Smart Rate multi-gigabit ports for high-speed 802.11ac devices, this advanced Layer 3 switch delivers a better application experience with low latency, virtualization with resilient stacking technology, and line rate 40GbE for plenty of back haul capacity. The Aruba 3810 is easy to deploy and manage with advanced security and network management tools like Aruba ClearPass Policy Manager, Aruba AirWave and cloud-based Aruba Central.
What's new
Powerful Aruba Layer 3 switch series with backplane stacking, low latency, resiliency and prgrammability for a better mobile-first campus experience.
HPE Smart Rate for high speed multi-gigabit capacity and PoE+ power.
Modular line rate 10GbE and 40GbE ports for wireless aggregation.
Full PoE+ on all 48 ports for power-hungry high-speed wireless APs.
Aruba ClearPass Policy Manager, Aruba AirWave and Aruba Central support.
Ready for the software defined network with REST APIs and OpenFlow support.
Features
Performance and Power for the Digital Workplace
The Aruba 3810 Switch Series is an industry leading mobile campus access solution for enterprises, SMBs, and branch office networks. With HPE Smart Rate multi-gigabit ports for high speed 802.11ac devices, the Aruba 3810 will prepare your network for tomorrow.
HPE Smart Rate ports support multi-gigabit Ethernet speeds (1, 2.5, 5, and 10 gigabit Ethernet) on existing cabling for cost-effective and convenient network upgrades with no rip and replace of cabling.
Optimized for the digital workplace with unified management and security tools such as Aruba ClearPass Policy Manager, Aruba Airwave and Aruba Central. Provides optimal configuration automatically when connected to Aruba access points for PoE priority, VLAN configuration, and rogue AP containment.
Rightsizes deployment and back haul capacity with modular 10GbE and 40GbE uplinks. Full PoE+ provisioning on 48-ports. Dual, redundant, hot-swappable power supplies and innovative backplane stacking technology delivers resiliency and scalability in a convenient 1U form factor.
Advanced Layer 2 and 3 feature set with OSPF, IPv6, IPv4 BGP, robust QoS and policy-based routing are included with no software licensing. Built-in programmable and easy to use REST API interface provides configuration automation for Mobile-first campus networks.
Resiliency and High Availability You Can Depend On
The Aruba 3810 Switch Series is designed with a ProVision ASIC designed to enable the mobile campus with very low latency, increased packet buffering, and adaptive power consumption.
Backplane stacking technology delivers high-performance stacking with up to 336 Gb/s of stacking throughput and increased resiliency. Up to ten Aruba 3810 switches can be stacked in a ring topology or up to five can be stacking in a mesh topology.
Dual hot-swappable power supplies provide power and allow swapping of modules on the fly to reduce impact on the network availability. More performance with selectable queue configurations and associated memory buffering that best meets requirements of prioritized network applications.
Selectable queue configurations enables increased performance by selecting the number of queues and associated memory buffering that best meet the requirements of the network applications.
Uninterrupted switching and routing for improved application experience and enhanced L3 availability. Supports virtual router redundancy protocol (VRRP) allowing groups of two routers to dynamically back each other up to create highly available router environments in both IPv4 and IPv6 networks.
Trusted Security with Unmatched Quality of Service
The Aruba 3810 Switch Series includes robust security and quality of services features to build a mobile campus network that meets corporate policies and compliance requirements.
Flexible traffic controls, such as policy-based routing, QoS, and ACLs, to manage end-to-end application priorities for improved user experience.
Enhanced security and policy-driven application authentication with concurrent 802.1X, MAC and Web Authentication modes. Prevent unwanted traffic with advanced distributed denial of service (DDOS) protection, such as DHCP Snooping, IP Source Guard, and ARP Protection.
Powerful multilevel-access security controls, such as role-based management, configurable password complexity, RADIUS/TACACS+, and SSH for improved security and control change management access.
Tunneled Node to transport network traffic on a per-port basis to Aruba controller with authentication and network policies applied and enforced at the controller. Industry standard MACsec provides switch-to-switch link level security.
Simplify with Unified Management
The Aruba 3810 Switch Series supports Aruba ClearPass Policy Manager to provide unified and consistent policy between wired and wireless users. Simplified implementation and management of guest login, user onboarding, network access, security, QoS, and other network policies on the network.
Supports Aruba AirWave and cloud-based Aruba Central to provide common platform for zero-touch provisioning, management, and monitoring for wired and wireless network devices.
Supports both cloud-based Central and on-premise AirWave with the same hardware ensuring change of management platform without ripping and replacing switching infrastructure.
RMON, XRMON and sFlow provide advanced monitoring and reporting capabilities for statistics, history, alarms and events.
Out-of-band Ethernet management port keeps management traffic segmented from your network data traffic.
Differentiator
Scalable high-end campus access switch with 24x 10G SFP+ ports and a 250W power supply.
This model is a complete kit with 24x SFP / SFP+ ports. Additionally it has 1x X371 12VDC 250W Power Supply (JL085A) and 1x fan tray (JL088A). Add a second power supply for power redundancy.
Ports
48 10/100/1000 ports, maximum or 16 1/10GbE SFP+ ports, depending on model, all supporting MACSec
8 HPE Smart Rate Multi-Gigabit (1/2.5/5/10GBASE-T) ports, available on select model
2 open I/O module slots, maximum, depending on model
PoE/PoE+ on selected models
Memory and processor
Dual ARM Coretex A9 @ 1 GHz
2 GB DDR3 SDRAM
Packet buffer size: 13.5 MB Internal
Latency
1000 Mb Latency: < 2.8 µs 10 Gbps Latency: < 1.8 µs 40 Gbps Latency: < 1.5 µs
Throughput
Routing/switching capacity
Switch fabric speed
PoE capability
1440 W maximum
Depending on model and configuration
Stacking capabilities
Management features
Aruba AirWave Network Management
Aruba Central
IMC – Intelligent Management Center
Command-line interface
Web browser
Configuration menu
Out-of-band management (RJ-45 Ethernet)
In-line and out-of-band
Out-of-band management (serial RS-232C or micro USB)
Input voltage
100-240 VAC
Depending on installed options, model and configuration
Minimum dimensions ( H x W x D)
44.25 x 43.13 x 4.39 cm
Weight
7.14 kg
Warranty
Limited Lifetime Warranty: See www.hpe.com/networking/warrantysummary for warranty and support information included with your product purchase.
Software releases: for details on the software releases available with your product purchase
refer to www.hpe.com/networking/warrantysummary.